Two people were killed and two others were hospitalized after a fatal rollover crash in Hollywood Friday morning.
Florida Highway Patrol officials said the incident happened when a vehicle traveling southbound on the exit ramp to Hollywood Boulevard from Interstate 95 lost control and crashed into another vehicle at the intersection.
Two men who were in the car that lost control were hospitalized in critical but stable condition.
A man and woman who were in the car that was struck were taken to a local hospital where they died from their injuries, officials said. Their identities haven't been released.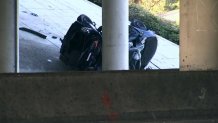 The crash has closed off Hollywood Boulevard between Park Road and 28th Avenue. The entrance to I-95 by the train tracks was also blocked.
Commuters can use Johnson Street as an alternate.
FHP officials said the crash remains under investigation.
This is a developing story and will be updated. Please check back for more updates.