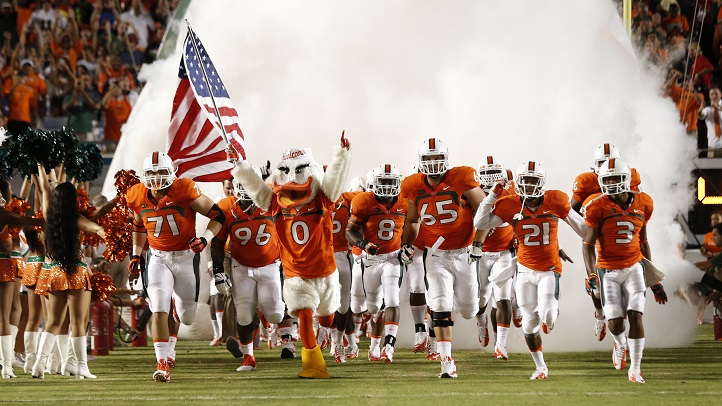 The Miami Hurricanes make their first road trip of the year this weekend, trucking up to Tampa to visit USF in an intrastate match-up. USF is not the Canes' biggest in-state rival by a long shot, and the very brief series has been dominated by Miami (who has won four of five meetings).
Still, facing a Florida school means the Canes will be lining up against former high school and youth football teammates, and that can always make for a spirited game. The Bulls will need any extra edge they can get against Miami, as the season has not been kind to them thus far.
USF is 0-3, having lost to FBS McNeese State and FAU (whom you may remember Miami dominating in the season opener) in addition to Michigan State. But Miami coach Al Golden is not taking the Bulls lightly.
"I think our kids know exactly what type of game we're getting ready for," Golden said this week. "These rivalry games are exactly just that – they're spirited, they're heated, and we have to make sure we're taking care of business and focusing on ourselves all week."
When the Canes have the ball: Miami should get QB Stephen Morris back in Tampa. He left last week's blowout of Savannah State in the first quarter after suffering a bone bruise in his right leg. He has not been at his best this season (completing just 54% of his passes), but he remains dangerous with so many big-play threats to throw to.
South Florida may be 0-3, but they actually have the 9th best pass defense in FBS in terms of yardage. That statistic is a little misleading. USF has lost three games by a combined 65 points, so the Bulls have not had to defend the pass in the second half of their losses.
USF has been susceptible against the run, and Miami RB Duke Johnson is 11th in the nation with 168 all-purpose yards per game. USF LB Devekeyan "Dede" Lattimore is the leader of its defense, recording 31 tackles and an interception through three games.
When the Bulls have the ball: USF has struggled mightily on offense, most notably in the turnover department. The Bulls have coughed up the ball 8 times in 3 games, giving up a pair of touchdowns on interception returns in their last game against FAU.
RB Marcus Shaw is not to be overlooked, though, averaging 7 yards per carry and 133 yards per game. USF's quarterbacks are a different subject entirely. Three have taken snaps so far this season, and they have combined for a 37% completion rate and 4 interceptions against three touchdowns.
Miami's defense has surrendered just 3 touchdowns this season, and is 8th in the nation with 3.67 sacks per game (USF giving up over 2 sacks a game). The Canes are also excelling at getting off the field on third down, holding opponents to a 30% conversion rate.
Who has the edge? USF has seen better days, and Miami is simply too talented in all three phases of the game for the Bulls to pull off an upset.
The Pick: Miami 42-USF 13
Kickoff is at noon ET, with coverage on ESPNU.