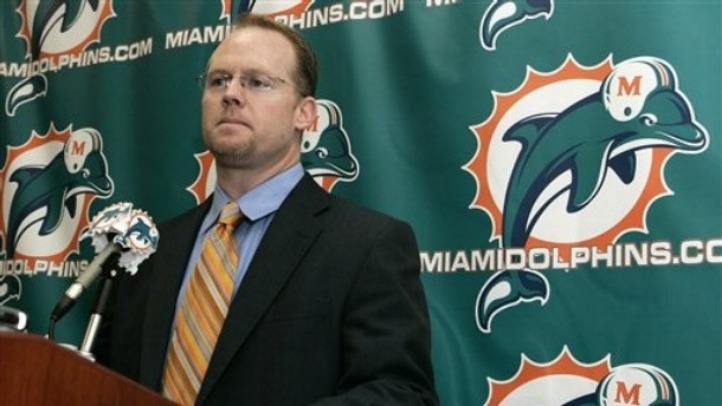 The Miami Dolphins won a coin flip with the Carolina Panthers Friday morning, giving them the eighth overall pick in April's NFL Draft. But that story is much less interesting than the
comments Dolphins general manager Jeff Ireland made
at the annual NFL Scouting Combine Thursday.
With both of the top quarterback prospects in the draft, Andrew Luck and Robert Griffin III, likely to be long gone by the time the Dolphins make the eighth pick, speculation has been rampant that the team will try to acquire Indianapolis Colts quarterback Peyton Manning. The Colts are expected to release Manning rather than pay him a $28 million roster bonus due March 8. Holding the first overall pick in the draft, the Colts are expected to draft Luck and rebuild around him rather than Manning.
The one problem with the Dolphins acquiring Manning is that he will turn 36, this offseason, so that acquisition would only have a limited shelf life.
But Ireland said Thursday that a "short-term solution," in his words, might not be a bad thing for the Dolphins. "I don't think it has to be a long-term solution," he told the Miami Herald.
"I think you can look at a short-term solution. Obviously, you'd like a long-term solution. Or you can try to get both. You've got to try to help this team win today and look to the future."
These comments are very clearly about Manning. No other free agent quarterback can help Miami win today as much as Manning (when the next best options are Kyle Orton and Matt Flynn - a career backup, the quarterback market is in a down year).
On the face of it, such a strategy makes sense. The Dolphins have enough talent at the skill positions with Reggie Bush and Brandon Marshall to presume that a healthy Manning (along with one or two other free agent acquisitions to bolster the offensive line) could turn the team's inconsistent offense into a juggernaut next season.
The Dolphins were in the bottom ten in the NFL in total offense and passing yardage last season, but it is not preposterous to suggest that Manning could extract more points out of the Dolphins offense than either Chad Henne or Matt Moore could. The Colts were largely the same team without Manning in 2011 as they were with him in 2010, but without Manning their offense went from fourth-best to third-worst in the NFL.
Signing Manning (should he become available) could easily backfire. He is coming off multiple neck surgeries and by all accounts is still a ways off from regaining his full throwing strength. Even so, the Dolphins have long been criticized for playing it too safe when it comes to the quarterback position, so at least Dolfans can say their team is thinking about going for broke this offseason.