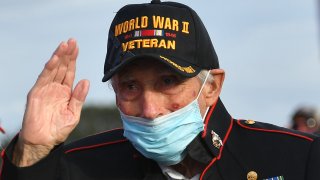 Florida is extending its program to bring COVID-19 vaccines to homebound seniors to focus on veterans of World War II and the Korean War.
Gov. Ron DeSantis made the announcement at a news conference in Port Charlotte Thursday morning.
DeSantis said the state is working with veterans organizations to locate the veterans who aren't able to get to a vaccination site.
There are believed to be about 30,000 veterans of World War II and 100,000 veterans of the Korean War living in Florida, DeSantis said.
The state has previously extended the program to include homebound Holocaust survivors and Bay of Pigs veterans. Some hospital systems and localities have already been bringing vaccines to homebound seniors.
For more information visit www.floridavets.org/homeboundveterans.
This is a developing story and will be updated. Please check back for more updates.