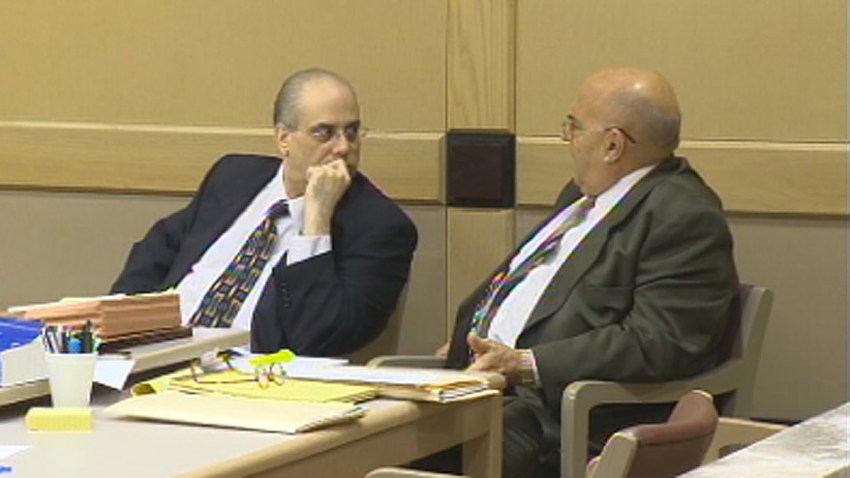 A prosecutor recounted the moments when Miami Subs founder and casino operator Konstantinos "Gus" Boulis was ambushed as the trial of two men charged in his 2001 murder finally began Monday.
Boulis was shot to death inside his car in Fort Lauderdale while leaving work.
"As he is blocked in, a car pulls up. He sees a hand come out of the driver's side and he hears gunshots and he ducks," prosecutor Greg Rossman said in opening statements, citing a witness to the crime. "As those gunshots rang out, the car in front of Mr. Boulis leaves."
Anthony "Big Tony" Moscatiello, 75, and Anthony "Little Tony" Ferrari, 56, face first-degree murder charges in the death of Boulis. Both have pleaded not guilty.
After the state presented its opening statements, the defense asked for a mistrial, arguing that Rossman brought up two pieces of evidence that the court previously decided would not be talked about. Broward Circuit Judge Ilona Holmes denied the motion.

Moscatiello and Ferrari are accused of orchestrating a hit against Boulis amidst a power struggle over SunCruz Casinos. Former Washington lobbyist Jack Abramoff and a partner pleaded guilty to fraud in purchasing SunCruz and did prison time.
Moscatiello and Ferrari used to work with Boulis – who opened the first Miami Subs and started the very profitable SunCruz casino boat fleet.
A third man, James "Pudgy" Fiorillo, pleaded guilty last year to conspiracy to commit murder in Boulis' death and is expected to take the witness stand against Moscatiello and Ferrari.
The suspect authorities identified as the gunman in the murder, John Gurino, was shot and killed in a Boca Raton deli.
Ferrari's bodyguard, who the state said was approached in a murder for hire plot, is also expected to testify.
"We got a problem with the SunCruz business," Rossman said, replaying and paraphrasing events in what he said was the murder planning. "We have a problem with the owners and we need to take him out."
Ferrari's defense attorney, Chris Grillo, fired back in his opening. He said, "We don't have to prove anything and the state doesn't have to prove motive, but motive is always interesting to think about. Motive is the reason people do things."
As to that question of motive, Grillo said Ferrari didn't have a reason to want Boulis dead. He said many of the state's witnesses are convicted felons and drug users, and because of that, their credibility should be questioned. Grillo also added there is no evidence linking the two defendants to the crime.
The jury will hear a lot more from both sides during the trial, which may last as long as a month.

If convicted Moscatiello and Ferrari could get the death penalty.
More Local Stories:
Copyright AP - Associated Press