South Florida is drying out after severe flooding on Tuesday afternoon, but residents were still cleaning up after the heavy rain.
Several inches of water flooded into the elevator and lobby of the Sunshine Bay Apartment Building on Lincoln Road and Lincoln Court. Residents said they had to rush to get their cars out of the garage during the downpour.
"It's absurd. It's not safe at all," one resident said.
Streets in Miami Beach and Miami were inundated with floodwaters after heavy downpours pounded the area. The National Weather Service in Miami issued a Flood Warning for Miami, Miami Beach, Coral Gables, South Miami and Virginia Key. The advisory was in effect until 9:45 p.m. Tuesday.
Roads transformed into rivers along the 2300 block of Collins Avenue. Photos showed ankle-high water seeping into a Walgreens store.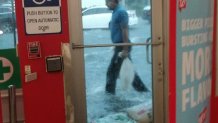 Miami Beach Mayor Philip Levine said the city continues to upgrade the stormwater system that drains streets during rain and rip tides. He said the new system is designed to handle 7.5 inches of rainfall and noted that Tuesday's rainfall surpassed seven inches per hour.
"This is more than double the new design capacity. The new stormwater systems have only been installed in approximately 15 percent of the city," the mayor said in a statement released Tuesday.
Officials with the City of Miami were holding a news conference Wednesday afternoon to discuss the flooding.
Traffic on I-395 was backed up due to the flooded roads. Other areas, including Brickell and Little Havana, were also experiencing major flooding. The deteriorating weather was causing delays at Miami International Airport Tuesday night. Airport officials advised travelers to check with their airlines before heading to the MIA.
"I don't know if I'm gonna tolerate this kind of thing, this wasn't even a major storm," one Miami Beach resident said. "It wasn't a hurricane, who knows what happens then?"

The Lawson E. Thomas Courthouse in Miami announced it will close Wednesday after the downpours caused flooding after a roof drain leaked.
Lightning struck a diesel tanker twice as the truck was moving fuel to another tanker. The incident happened on Southwest 77th Street and 117th Avenue.
If you run into a flooded area turn around. Most flood deaths happen in vehicles.
Keep checking NBC 6's First Alert Doppler 6000 for storms in your area and be sure to download the NBC 6 News and Weather App for the latest developments.