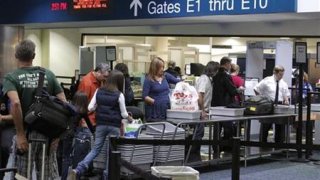 Deputies are investigating the death of a man who allegedly attempted to breach a security checkpoint at a South Florida airport.
Broward Sheriff's Office officials say the incident took place Thursday morning at Fort Lauderdale-Hollywood International Airport, when deputies responded to a man yelling at employees of JetBlue Airlines at a terminal.
The man, identified as 29-year-old Kevon Todd of Miramar, began running toward the checkpoint when he was physically stopped by deputies, officials said. After a struggle, fire rescue crews were called to the scene when Todd became unresponsive.
Todd was rushed to Broward Health Medical Center, where he was pronounced dead a short time later.
Deputies involved in the incident were treated for minor injuries and later released. The incident remains under investigation.