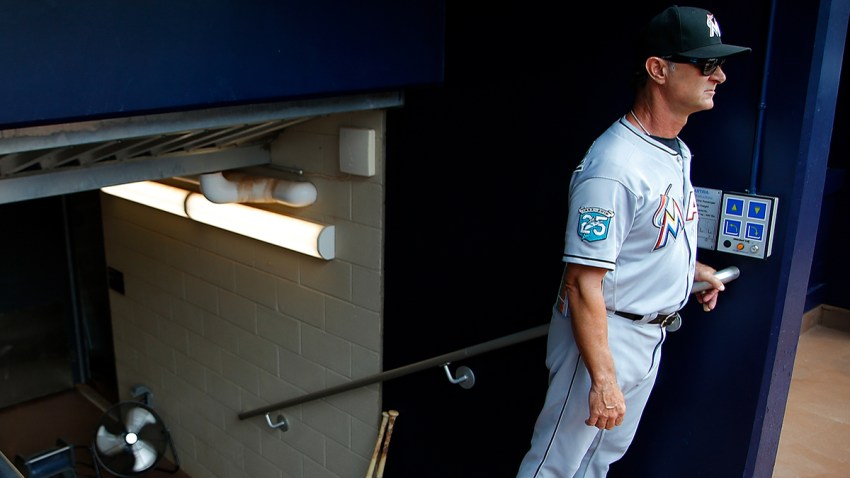 The Miami Marlins revealed their full coaching staff for the 2019 season on Wednesday.
Mel Stottlemyre Jr., Trey Hillman, Jeff Livesey and Kevin Barr are the new names to join manager Don Mattingly's staff. Stottlemyre will be Miami's pitching coach, while Hillman will serve as first-base and infield coach. Livesey is the team's new assistant hitting coach and Barr will be the strength and conditioning coach..
The Marlins did not retain the services of Perry Hill, Ty Hill, Frank Menechino and Juan Nieves after the completion of the 2018 season. All three had been with the team for several years and were hired by the previous ownership group. Hill has already landed a new job with the Seattle Mariners and will be a part of their on-field coaching staff.
Stottlemyre comes with some connections to CEO Derek Jeter and the New York Yankees. Stottlemyre's father served as New York's pitching coach for a number of seasons during their championship years. Miami's new pitching coach had the same role with the Mariners for the past three seasons. While under Stottlemyre's tutelage, the Mariners posted the sixth-best team E.R.A. in the American League.
Hillman also comes with Yankee connections, as well as links to Mattingly. Hillman spent 13 years in New York's minor-league system as a coach and manager. Hillman managed the Kansas City Royals from 2008-10 and served as Mattingly's bench coach in Los Angeles from 2011-13. The 55-year old coach also has seen success internationally, as he is the first manager to ever win both the Korean Series title and the Japan Series title.
Livesey has spent the past five seasons as the assistant hitting coach of the Pittsburgh Pirates, so this role should feel familiar. As the assistant hitting coach, Livesey will be tasked with lightening the load on hitting coach Mike Pagliarulo. Livesey incidentally also has a Yankee connection, as he played for the organization for eight years.
Barr's role is not an on-field one, but it is important one. The strength and conditioning coach plays a vital role in the health and durability of the roster. Without a great deal of big-league ready depth in the minors, injuries can have a big effect on Miami's daily play. Barr was Miami's minor-league strength and conditioning coordinator in 2018 and he also held that role with the franchise in 2001.
Bench coach Tim Wallach, third-base coach Fredi Gonzalez, bullpen coach Dean Treanor, catching coach Brian Schneider and bullpen coordinator Rob Flippo will all be remaining on the coaching staff in 2019.