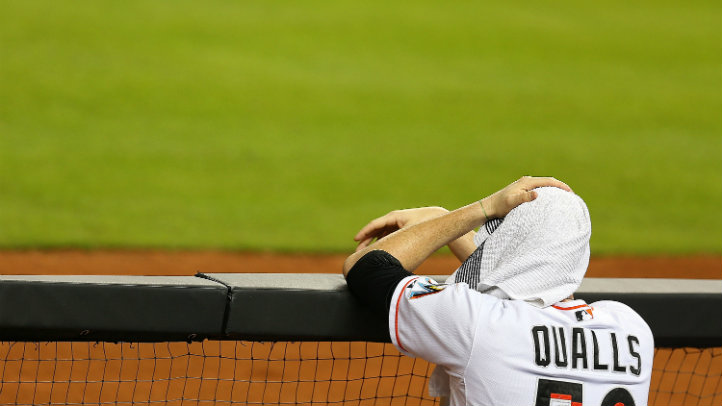 The Miami Marlins have not had the most positive 2013 season, so much so that even their successes sometimes are accompanied by an embarrassing pratfall.
But this story has a happy ending. Marlins relief pitcher Chad Qualls turned a celebratory fist pump into a fall to the turf into a graceful exit in the eighth inning of Miami's 4-2 loss to the New York Mets.
With the game tied at 2 in the top of the eighth inning, Qualls was facing Omar Quintanilla with runners on first and third. Having given up a leadoff triple and a two-out walk, Qualls worked out of a jam, striking out Quintanilla on three pitches, the last swinging.
Martinez Discusses Incident That Led to Resignation From Marlins
Elated, Qualls took a hop-step of the pitcher's mound at Marlins Park, and pumped his right fist in the air. Then his left foot gave way, and Qualls fell to his right side.
Qualls made a graceful recovery, though, falling into a barrel roll over his right side and coming back to his feet in one fluid motion.
And like he had planned all along, Qualls walked off the field while the crowd gave him encouraging applause.
The Marlins ended up losing the game 4-2 in 10 innings, so the mood in the clubhouse after the game was less triumphant (though Qualls certainly deserved some congratulations).
"As soon as I saw the fist pump I put my head down," Marlins manager Mike Redmond said. "That's one of those if you win that game, you can watch it. But since we lost it's not quite as funny."
Watch the replay below: