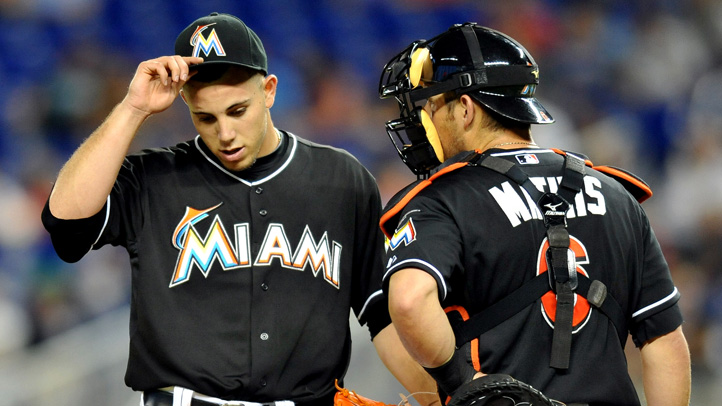 Miami Marlins rookie pitcher Jose Fernandez will be under an innings limit as the 2013 season winds down over the next two months. Mindful of his development, the team will likely limit the 20-year-old to 170 total innings pitched.
The Miami Herald reported Friday that the team has been monitoring his innings count all season, and he is likely to be shut down once he hits the 150- to 170-inning benchmark they set at the beginning of the season.
"What we said was 150 to 170 innings," manager Mike Redmond said Thursday. "Obviously we're going to push for closer to 170."
Fernandez has already thrown 105 innings in 18 starts over the first 93 games of the season. He has been stellar, posting a 2.75 ERA with 103 strikeouts against 40 walks. He was named to the NL All-Star team, and he pitched a scoreless inning with 2 strikeouts in the All-Star Game on Tuesday night.
Cuban Baseball Player Misael Siverio Defects to the United States

Redmond says the innings count will not be a factor in individual starts.
"If he has a chance to win a ball game or whatever it is, and he's going good then we'll let him throw seven or eight innings," Redmond said. "I take it from game to game. If he has a chance to throw a complete game then I'll let him throw a complete game. If he keeps his pitches down and he has a chance he'll go out there."
It is not unusual for a team to keep a young pitcher from throwing too many innings, especially if he is making a big jump in innings pitched from one season to the next. As pitchers make significant jumps in innings pitched from one season to the next, they tend to be more prone to injury, something the Marlins cannot afford with their young staff.
American League Wins 2013 All-Star Game
Last year, the Washington Nationals shut down phenom Stephen Strasburg in early September, even though they were in the middle of a pennant race. The Nationals were criticized from some for the move, but they wanted to protect Strasburg in the long term.
With the Marlins deep in the NL East cellar, they would likely face much less scrutiny for holding Fernandez to an innings count. He is already close to his 2012 innings count of 134 (all in Single-A ball).
Fernandez told the Herald he will continue to take things one start at a time.
"They got a plan and I'm going to follow it 100 percent," he said. "I'm not really thinking about innings and stuff like that."
The Marlins open up the second half Friday night in Milwaukee against the Brewers. Fernandez' next scheduled start is on Tuesday at the Colorado Rockies.