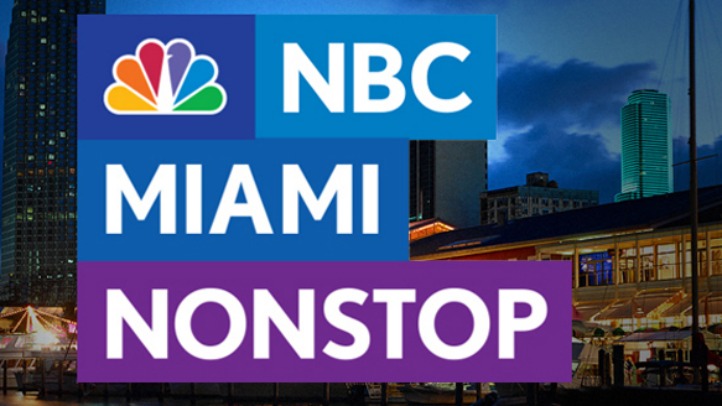 NBC Miami launches "NBC Miami Nonstop," a round-the-clock local information and lifestyle broadcast channel offering viewers a wide variety of interesting and relevant programming choices, including the first primetime news of the night at 9:00pm.
NBC Miami Nonstop officially launched on Monday, May 9.

This new platform increases local content offered by NBC Miami, a station with a rich history of firsts and innovation in our community. NBC Miami Nonstop will offer an interesting mix of local news, information, entertainment and lifestyle programming.

In making the announcement, Ardyth Diercks, President and General Manager of NBC Miami said, "We are very excited about the launch of NBC Miami Nonstop. It is a unique offering for our viewers – a 24-hour local channel focused on local news and programming that is of interest to South Floridians. We are also proud to be able to offer our viewers local news earlier in the evening."

Programming for NBC Miami Nonstop introduces a mix of shows produced specifically for the Nonstop channel.
They include "The Nonstop Scene" featuring the people, places and events that make South Florida one-of-a kind; "Nonstop Foodies" which celebrates local restaurants, chefs, food and cooking; "Nonstop Rundown," a daily half hour that recaps and highlights news of the day told in an informal, conversational style; "Live Positive," South Floridians' inspirational and positive life stories that are making our community a better place to live; "Live Healthy," covering a variety of health topics and breakthroughs and "Miami Through Time," which revisits South Florida's history as told through the NBC Miami archives dating back to 1949.

NBC Miami Nonstop will be available on over-the-air digital channel 6.2, Xfinity TV channel 216, Atlantic Broadband 650, and Advanced Cable 133. NBC Miami Nonstop replaces NBC Plus.

The excitement continues as NBC Miami offers viewers more news earlier in the day when NBC Miami News at 5 p.m. premieres on the station's main channel.
Anchored by Jackie Nespral and Kevin Corke, the hour-long newscast will report day-of local, national and international news and will feature a daily "Live Positive" segment, health news, a look at local stories coming up the next day, regular checks on traffic, in-depth weather from Meteorologist John Morales and sports analysis from Joe Rose.

With the addition to the 5 p.m. local newscast, NBC Miami will modify its afternoon program line-up by moving the Ellen DeGeneres show back an hour to 4 p.m. and returning Extra to its longtime home at 7 p.m.