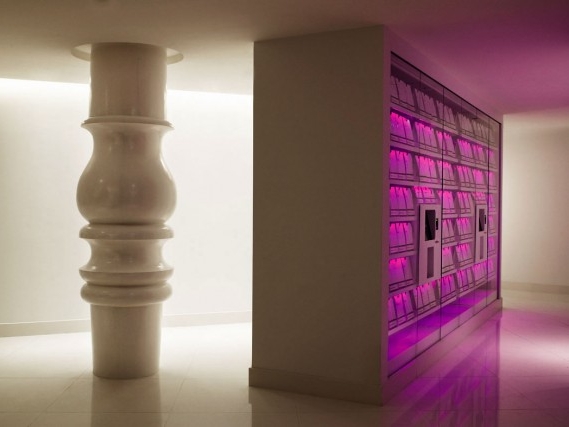 In 2000, artist Martí Guixé conceived of HiBye, a vending machine full of pills to help people cope with work on the go (or, in curator's terms, a "system of oral units designed to support nomadic work, providing the necessary elements to exploit the potential for interaction with new people and places.") Guess coffee doesn't always cut it.
Leave it to Miami to find ways for life to imitate art. Gallerists, collectors, artists, and scenesters can now "work" Art Basel Miami Beach with easy access to all the items that help them cope -- or at least feed the need for the latest in hard-to-find accessories and status symbols, which is what at least half of them depend on to exploit the potential for interaction with new people and places: Interview Magazine is launching the very sleek and sexy Luxury Semi-Automatic Vending Machine in rooms at the Mondrian Hotel, just in time for the big event December 3-6.
What's in it? No pills labeled "approach everyone" or "ideas," but there's a limited edition Jil Sander t-shirt, the Art Production Fund's Prada Marfa poster you've seen on Gossip Girl, Dolce & Gabanna's "We Love Madonna" tank, canvas kicks from Vena Cava, and Scott Campbell knuckle tattoo sets. And for anyone too (fabulously) impoverished to actually purchase at the fair, there's two Warhol posters, a reproduction of an Actuel magazine cover featuring Jean-Michel Basquiat, and "prototypes" from the latest Raf Simons and Sterling Ruby collab.
At the touch of a button, what could be easier? Only the Mondrian's original vending machine, which dispenses Bentleys and toothbrushes, and the most recent installation, which deposits bathing suits right into your hand out by the pool.
Perhaps the HiBye isn't that conceptual after all.
The kicker for the Art Basel version? For those who miss out on nabbing this year's hot contemporary hit for their collections, there's a year's supply of creamy, comforting Ben & Jerry's for sale in the machine. And, of course, more retail therapy at their fingertips.