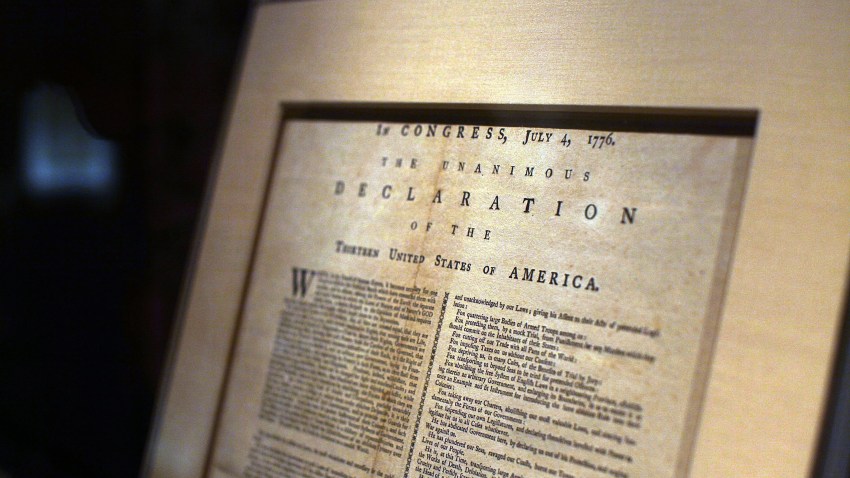 Today's Highlight in History:

On July 8, 1776, Col. John Nixon gave the first public reading of the Declaration of Independence, outside the State House (now Independence Hall) in Philadelphia.

On this date:

In 1663, King Charles II of England granted a Royal Charter to Rhode Island.

In 1853, an expedition led by Commodore Matthew Perry arrived in Yedo Bay, Japan, on a mission to seek diplomatic and trade relations with the Japanese.

In 1889, The Wall Street Journal was first published.

In 1907, Florenz Ziegfeld staged his first "Follies," on the roof of the New York Theater.

In 1919, President Woodrow Wilson received a tumultuous welcome in New York City after his return from the Versailles Peace Conference in France.

In 1947, demolition work began in New York City to make way for the new permanent headquarters of the United Nations.

In 1950, President Harry S. Truman named Gen. Douglas MacArthur commander-in-chief of United Nations forces in Korea. (Truman ended up sacking MacArthur for insubordination nine months later.)

In 1958, President Dwight D. Eisenhower began a visit to Canada, where he conferred with Prime Minister John Diefenbaker and addressed the Canadian Parliament.

In 1962, just after midnight local time, Alitalia Flight 771, a DC-8, crashed as it was approaching Bombay (Mumbai), India, killing all 94 people on board.

In 1972, the Nixon administration announced a deal to sell $750 million in grain to the Soviet Union. (However, the Soviets were also engaged in secretly buying subsidized American grain, resulting in what critics dubbed "The Great Grain Robbery.")

In 1975, President Gerald R. Ford announced he would seek a second term of office.

In 1994, Kim Il Sung, North Korea's communist leader since 1948, died at age 82.

Ten years ago: In Senegal at the start of a five-nation tour of Africa, President George W. Bush called American slavery one of history's greatest crimes as he stood at the very spot where hundreds of thousands of Africans had been bought and sold like cargo. A factory worker opened fire at a Lockheed Martin plant in Meridian, Miss., leaving five dead before committing suicide. Twenty-nine-year-old Iranian twins joined at the head died following surgery in Singapore to separate them. A triple-deck ferry capsized in Bangladesh; more than 500 people drowned. A Sudanese Boeing 737 crashed on the northeastern Red Sea coast, killing 117 people.

Five years ago: A bipartisan group chaired by former secretaries of state James Baker III and Warren Christopher released a study saying the next time the president goes to war, Congress should be consulted and vote on whether it agrees. A well-organized assault by gunmen on horseback on a United Nations-African Union patrol in Darfur left seven peacekeepers dead and 22 wounded.

One year ago: A bomb in eastern Afghanistan killed six NATO service members on a day where a total of 29 people died from roadside bombs and insurgent attacks. In a show of force, Syria began large-scale military exercises to simulate defending the country against outside "aggression." Roger Federer equaled Pete Sampras' record of seven men's singles titles at the All England Club and won his 17th Grand Slam title overall, beating Andy Murray 4-6, 7-5, 6-3, 6-4. Na Yeon Choi of South Korea won the U.S. Women's Open at Blackwolf Run in Kohler, Wis. Academy Award-winning actor Ernest Borgnine, 95, died in Los Angeles.

Today's Birthdays: Singer Jerry Vale is 83. Singer Steve Lawrence is 78. Actor Jeffrey Tambor is 69. Ballerina Cynthia Gregory is 67. Actress Kim Darby is 66. Children's performer Raffi is 65. Actress Anjelica Huston is 62. Writer Anna Quindlen is 61. Actor Kevin Bacon is 55. Actor Robert Knepper is 54. Rock musician Andy Fletcher (Depeche Mode) is 52. Country singer Toby Keith is 52. Rock musician Graham Jones (Haircut 100) is 52. Rock singer Joan Osborne is 51. Writer-producer Rob Burnett is 51. Actor Rocky Carroll is 50. Actor Corey Parker is 48. Actor Billy Crudup is 45. Actor Michael Weatherly is 45. Singer Beck is 43. Country singer Drew Womack (Sons of the Desert) is 43. Christian rock musician Stephen Mason (Jars of Clay) is 38. Actor Milo Ventimiglia is 36. Rock musician Tavis Werts is 36. Singer Ben Jelen is 34. Actor Lance Gross is 32. Actress Sophia Bush is 31. Rock musician Jamie Cook (Arctic Monkeys) is 28. Actor Jake McDorman is 27. Actor Jaden Smith is 15.

Thought for Today: "Fools are more to be feared than the wicked." — Queen Christina of Sweden (1626-1689).
More Local Stories:
Copyright AP - Associated Press