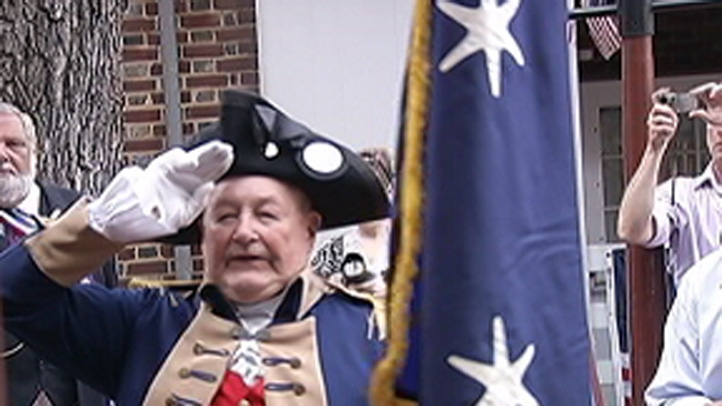 Today's Highlight in History:

On June 14, 1777, the Continental Congress in Philadelphia adopted the Stars and Stripes as the national flag.

On this date:

In 1775, the Continental Army, forerunner of the United States Army, was created.

In 1801, former American Revolutionary War general and notorious turncoat Benedict Arnold died in London.

In 1922, Warren G. Harding became the first president heard on radio, as Baltimore station WEAR broadcast his speech dedicating the Francis Scott Key memorial at Fort McHenry.

In 1940, German troops entered Paris during World War II; the same day, the Nazis began transporting prisoners to the Auschwitz concentration camp in German-occupied Poland.

In 1943, the U.S. Supreme Court, in West Virginia State Board of Education v. Barnette, ruled 6-3 that children in public schools could not be forced to salute the flag of the United States.

In 1952, President Harry S. Truman officiated at the keel-laying of the nuclear-powered submarine USS Nautilus at the Electric Boat Shipyard in Groton, Conn.

In 1954, the words "under God" were added to the Pledge of Allegiance.

In 1967, the space probe Mariner 5 was launched from Cape Kennedy on a flight that took it past Venus.

In 1972, the Environmental Protection Agency ordered a ban on continued domestic use of the pesticide DDT, to take effect at year's end.

In 1982, Argentine forces surrendered to British troops on the disputed Falkland Islands.

In 1985, the 17-day hijack ordeal of TWA Flight 847 began as a pair of Lebanese Shiite Muslim extremists seized the jetliner shortly after takeoff from Athens, Greece.

In 1993, President Bill Clinton chose Judge Ruth Bader Ginsburg to serve on the U.S. Supreme Court.

Ten years ago: A wave estimated at about 20 feet tall capsized the charter fishing boat Taki-Tooo off the northern Oregon coast; nine people were killed, two others are missing and presumed dead; eight survived by swimming to shore. A car driven by Phoenix Bishop Thomas O'Brien struck and killed pedestrian Jim Reed; O'Brien was later convicted of leaving the scene of an accident and sentenced to probation. The Czech Republic voted to join the European Union.

Five years ago: Iran rejected a six-nation offer of incentives to stop enriching uranium, prompting President George W. Bush and French President Nicolas Sarkozy to jointly warn Tehran anew during a news conference in Paris against proceeding toward a nuclear bomb.

One year ago: In dueling speeches in the battleground state of Ohio, Republican presidential candidate Mitt Romney, speaking in Cincinnati, described the Obama administration as the very "enemy" of people who create jobs; President Barack Obama, going second in Cleveland, asked the nation to buy into his vision for four more years or face a return to the recession-era "mistakes of the past."

Today's Birthdays: Actress Marla Gibbs is 82. House Minority Whip Steny Hoyer, D-Md., is 74. Writer Peter Mayle is 74. Actor Jack Bannon is 73. Country-rock musician Spooner Oldham is 70. Rock singer Rod Argent (The Zombies; Argent) is 68. Real estate mogul and TV personality Donald Trump is 67. Singer Janet Lennon (The Lennon Sisters) is 67. Rock musician Barry Melton is 66. Rock musician Alan White (Yes) is 64. Actor Eddie Mekka is 61. Actor Will Patton is 59. Olympic gold-medal speed skater Eric Heiden is 55. Singer Boy George is 52. Rock musician Chris DeGarmo is 50. Actress Traylor Howard is 47. Actress Yasmine Bleeth is 45. Actor Faizon Love is 45. International Tennis Hall of Famer Steffi Graf is 44. Screenwriter Diablo Cody is 35. Actor J.R. Martinez is 30. Actor-singer Kevin McHale is 25. Actress Lucy Hale is 24. Actor Daryl Sabara is 21.

Thought for Today: "I am not the flag; not at all. I am but its shadow." — Franklin Knight Lane, U.S. Secretary of the Interior (1864-1921).
Copyright AP - Associated Press