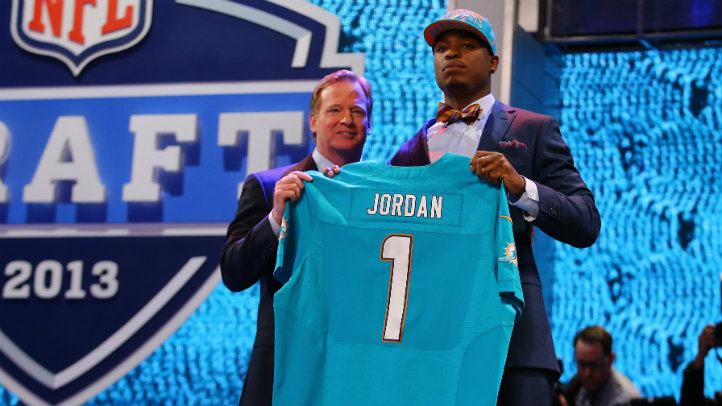 Miami Dolphins top draft pick Dion Jordan is sitting out the start of training camp because his surgically repaired right shoulder has not fully healed, and he has been placed on the non-football injury list.
The defensive end and linebacker from Oregon wore uniform No. 95 Sunday but watched the first practice from the sideline. He and coach Joe Philbin declined to say how long Jordan is likely to be sidelined.
"It's really frustrating to not be out there," Jordan said, "but I understand my health is the main concern."
Mike Dee Leaves Dolphins for Padres

Jordan can join the active roster at any time before the regular season. If he isn't activated by then, he must remain out for the first six weeks of the season.
The third overall pick in the draft, Jordan signed a $20.6 million, four-year contract Saturday that included a $13.3 million signing bonus. He said he was told in the past couple of days that he would be placed on the NFL list.
"Coach and the people in the training room decided it was best for me," he said. "I want to be able to have a good career, a long career. I'm going to do what I have to do right now to make sure that's possible."
Dion Jordan: Shocked and Happy By Dolphins' Pick

Jordan, who totaled 14½ career sacks at Oregon, missed playing time last season because of his ailing shoulder and underwent surgery in February. He has been in South Florida for the past two months working out with teammates, but he sat out all of the Dolphins' offseason OTA practices.
Miami's first training camp workout drew a standing-room-only crowd of 2,700. Fan expectations are high after four consecutive losing seasons and a flurry of offseason moves.
"It's a good group," second-year coach Philbin said. "There are some good pieces to work with."
The Dolphins started camp earlier than most teams because they play a fifth exhibition game against Dallas in the Hall of Fame Game on Aug. 4. The regular season begins in seven weeks on Sept. 8 at Cleveland.
Copyright AP - Associated Press