Two people were arrested Friday in connection with a shooting incident that killed a South Florida pastor last month.
Nathaniel Roberson, 31, and Latravia Bell, 20, are both facing first-degree murder charges in the Sept. 10 death of 54-year-old Pastor Gregory Boyd, Miami-Dade Police officials said.
Police said Roberson and Bell had ambushed four victims and started shooting in a crowded parking lot near the Village Flea Market and Mall in the area of Northwest 27th Avenue and 79th Street in West Little River.
One of the gunshots hit a man who was later identified as Boyd. He was taken to Jackson Memorial Hospital's Ryder Trauma Center, where he later died from his injuries.
The shooting incident was caught on camera. Miami-Dade County Homicide Bureau detectives also received tips from the community that helped in the case, officials said.
Roberson and Bell were arrested Friday and taken to Turner Guilford Knight Correctional Center. Attorney information wasn't available.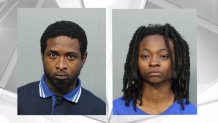 Police said they're still searching for another suspect in connection with the shooting.
Family and clergy members had been calling for justice for Boyd, who was known to many in the community and had served at New Birth Harvest Outreach Ministries.
"Pastor Boyd, he was a genuine guy. He was about doing the right thing. We need to stop the killing and stop the shooting in this town and it's time we need to come to grips on this," said Pastor Lorenzo Johnson Sr., with Faith Tabernacle Baptist Church.
"Hopefully the message will be sent out to people who shoot guns recklessly into a crowded area you can't do that. This pastor had nothing to do with the beef that was taking place," said Pastor Richard Paul Dunn, with Faith Community Baptist Church.