Two people were injured Friday night after a boat crashed near Broad Causeway Bridge in Miami.
The United States Coast Guard said four people were aboard the 32-foot vessel when they responded to the scene along with Miami Dade Fire Rescue, the Indian Creek Police Department.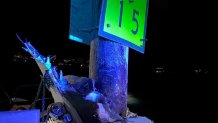 Both people injured were taken to Aventura Hospital & Medical Center.
The Florida Fish & Wildlife Conservation Commission is investigating.