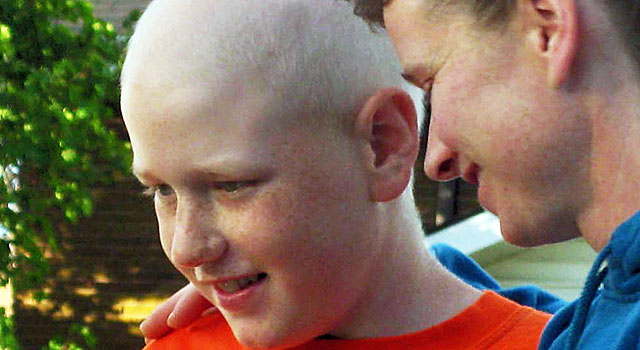 NEW ULM, Minn. — A 13-year-old cancer patient and his mother, who fled Minnesota last week to avoid court-ordered chemotherapy for him, returned voluntarily Monday, and the boy was evaluated by a doctor, a sheriff and the family's attorney said.

Daniel Hauser was "immediately checked over medically" when he and his mother arrived on a charter flight at 3 a.m. local time, Brown County Sheriff Rich Hoffmann said.

On a video released by the sheriff's department, Colleen Hauser described how the first chemotherapy treatment Daniel received made him sick and she said he planned to run away from home.

"Then what do I have? I mean, he was going to run," Hauser said. "And that just broke my heart. I can't have one of my children running away from something that they should face."

Hauser expresses optimism that her son can beat cancer, but the video doesn't disclose where they were or when it was made. The video was produced by Asgaard Media, which also arranged the charter flight for the mother and son to return home.

At one point on the video, an unseen woman asks Daniel what he'd say to people who claim he's not old enough to decide whether he needs chemotherapy. "I'd tell them to back off," he replies.

Hodgkin's lymphoma has a 90 percent cure rate in children if treated with chemotherapy and radiation, but doctors say Daniel has a 5 percent chance of survival without those treatments.

He underwent one round of chemotherapy in February, but none since. The family cited religious beliefs in opting for natural healing practices inspired by American Indians.

A judge ruled that the parents medically neglected Daniel and ordered them to get him an updated chest X-ray as well as select an oncologist for a re-evaluation. After the X-ray showed a tumor in Daniel's chest has grown, the mother and son left town.

On Thursday, Anthony Hauser appeared before reporters asking his wife to come home "so we can decide as a family what Danny's treatment should be."

Hoffmann did not say where the pair have been since they missed a court hearing last Tuesday, but authorities had focused the search on Southern California and its proximity to a number of alternative cancer clinics in northern Mexico.

The sheriff didn't say whether Daniel received medical treatment for his Hodgkin's lymphoma while they were gone. "It is a good day as Daniel and Colleen Hauser have been safely returned to Minnesota," Hoffmann said.

Daniel was in his parents' custody. The warrant for Colleen Hauser was lifted because she returned voluntarily, and Hoffmann expected a federal fugitive warrant also would be dropped.

A doctor at a hospital in Minnesota evaluated Daniel on Monday, according to Tom Hagen, an attorney at the law office representing Daniel's parents.

Hagen said his associate Calvin Johnson, who represents Daniel's parents, was out of town but authorized Hagen to disclose that information. He declined further comment on the Hausers.

Dr. Bruce Bostrom, the pediatric oncologist at Children's Hospitals and Clinics of Minnesota who diagnosed Daniel's cancer in January, said he was happy to hear of the boy's return.

"I'm delighted," Bostrom said. "I've been so worried that he was going to die in Mexico. I've been praying for his safe return, so I think my prayers will be answered."

Bostrom was not working Monday and didn't know if Daniel had gone to Children's Hospitals to be examined.

A message left for Daniel's court-appointed attorney was not returned. Phone messages left with the Hausers on Monday evening were not returned, and two sheriff's vehicles blocked the road to their home in Sleepy Eye, about 100 miles (160 kilometers) southwest of the Twin Cities.

Hoffmann said Jennifer Keller, an attorney from Orange County, California, contacted the sheriff's office Sunday and said Colleen Hauser wanted to bring Daniel home. Keller did not return a message left at her office.

The voice message system at Asgaard Media of Corona, California, was full and a message could not be left. The film and television production company did not immediately return an e-mail request for comment.

The FBI's affidavit in support of an arrest warrant for Colleen Hauser alleged she fled the state to avoid being prosecuted on two state counts of depriving another of custodial or parental rights. The "parental rights" refer to those of Brown County family services, which was granted custody of Daniel to get him to a pediatric oncologist.

Chief Deputy Jason Seidl said there were no outstanding charges against Colleen Hauser as of Monday evening. Hoffmann said he could not comment on whether charges might be filed later, but added the goal of the warrant was to get Daniel treated.


Copyright AP - Associated Press