Angie Lassman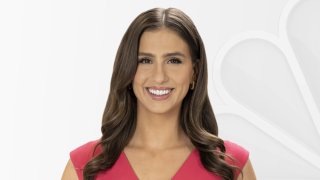 Angie Lassman is an Emmy® Award winning meteorologist. She joined the NBC 6 First Alert Weather team in May of 2016 and can be seen weekdays on NBC 6 News at 12pm and NBC 6 News at 4pm.
Before joining NBC 6, Lassman was the weekday morning meteorologist at Fox 26 KNPN in Saint Joseph, Missouri. She spent two years forecasting everything from tornado outbreaks to snowstorms in the central plains.
A native of Fraser, Michigan, Lassman was recruited to play volleyball for Florida Institute of Technology. At FIT she was part of a scientific research team, a collegiate athlete, two-year team captain and a college instructor. Lassman was also a Facilitator for the FIT Department of Space Sciences, educating Florida Division for Emergency Management officials and law enforcement on proper procedures and crisis management in case of a coronal mass ejection/space weather emergency.
In 2012, Lassman graduated from FIT's Department of Ocean Engineering and Sciences with a Bachelor of Science in Meteorology and later earned a Master of Science in Meteorology from FIT. She also co-authored a chapter in a book titled "Climate Change and Regional/Local Responses and is a Certified Broadcast Meteorologist through the American Meteorological Society.
Although Lassman is a scientist, she feels the rise of extreme weather has highlighted a need for more educated voices in the field of broadcast meteorology. In 2020, Lassman visited Australia during what was declared among the "worst wildlife disasters in modern history," to film a documentary that chronicled climate change in real-time. The docuseries "Unprecedented: A Climate Check Special Series" compared the wildfires to the dangers climate change may pose to South Florida and earned Lassman a Telly Award.
Lassman uses her TV weather platform to have a positive impact in the community and to play an important role in providing viewers with the most accurate developing storm updates as well as critical safety information to South Floridians.
She enjoys the diverse culture, beautiful beaches and gorgeous weather South Florida offers. Lassman also loves people and hopes to inspire others to be fearless in life, to try new things, and to have fun doing it.