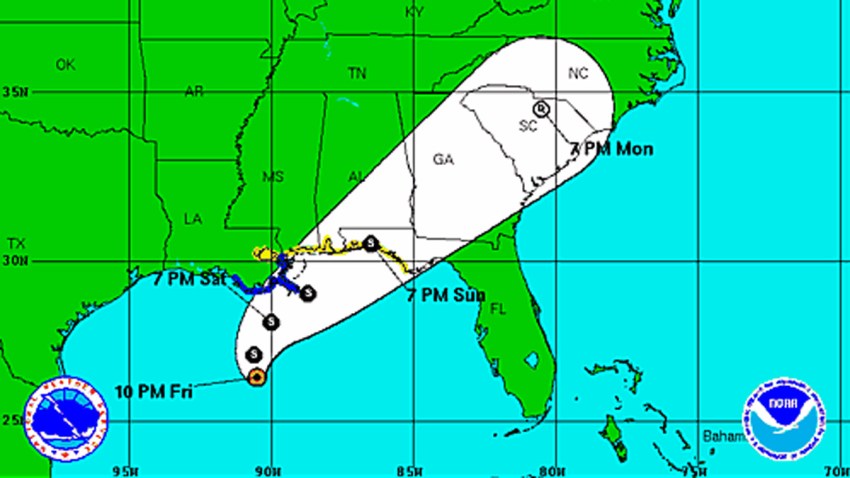 Tropical Storm Karen weakened further Friday night, with its maximum sustained winds dropping from 50 mph to 45 mph in the central Gulf of Mexico, the National Hurricane Center in Miami said.
As of 11 p.m., Karen was moving north-northwest at 7 mph about 205 miles south-southwest of the mouth of the Mississippi River and 230 miles south-southeast of Morgan City, La.
A hurricane watch for Tropical Storm Karen that included part of the Florida Panhandle was discontinued Friday afternoon as the storm became disorganized.
Though Karen weakened on Friday, there is a chance of slight strengthening Saturday night, when the center of the storm is expected to make landfall on the Louisiana coast.
A tropical storm warning was in effect from Morgan City, La. to the mouth of the Pearl River.
A tropical storm watch was in effect from east of the Pearl River in Louisiana to Indian Pass, Florida, as well as for metropolitan New Orleans, Lake Maurepas and Lake Pontchartrain.
Karen is expected to turn north and slow down on Saturday, followed by a turn to the northeast with an increase in speed on Sunday.

Karen could produce storm surges and rainfall of between 1-3 inches over parts of the central Gulf Coast and southeastern U.S. through Monday evening, mainly near and to the right of the path of the center of the storm, the hurricane center said. Isolated amounts of as high as 6 inches are possible.
On Thursday, Florida Gov. Rick Scott issued an order declaring a state of emergency in several counties as a result of Karen.
The state of emergency was declared for Escambia, Santa Rosa, Okaloosa, Walton, Holmes, Washington, Bay, Gulf, Calhoun, Jackson, Franklin, Liberty, Gadsden, Wakulla, Leon, Jefferson, Madison, and Taylor Counties.
More Weather Content: