Cristian Benavides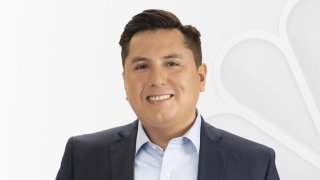 Cristian Benavides is a four-time Emmy® award winning journalist. He joined NBC 6 in June of 2021, as a general assignment reporter.
Before joining NBC 6, Benavides was a reporter for WPIX in New York. Prior to that, he spent nearly three years at WNJU, New York's Telemundo station and often contributed his reporting to WNBC.
Cristian began his journalism career as an anchor/reporter for the Univision affiliate in Tampa, Florida. He then moved on to Telemundo where he worked as an anchor/reporter at their Washington D.C. and Phoenix affiliates, joining WNJU in 2016.
During his career Benavides has covered many big stories. He won a New York Emmy for his on-the-ground coverage during the 2016 Ecuador earthquake, which killed nearly 700 people and left thousands homeless. Three months after the earthquake struck, Benavides also anchored a 30-minute nationally broadcast special from Ecuador.
His other notable coverage includes reporting on Hurricane Matthew from Florida and the Woman's FIFA World Cup from Vancouver. In 2015, he also reported on the border crisis Brownsville, Texas, for Telemundo and NBC stations.
More recently, Benavides covered the Surfside Condo Collapse tragedy right here in South Florida and led our station's Gabby Petito coverage from North Port. NBC 6 was the only South Florida station there as the FBI raided the home of Brian Laundrie.
Benavides graduated from the University of Miami in 2012 with a degree in broadcasting. During his senior year, he was a White House intern. He was also a Stabile Fellow at the Columbia Journalism School.
Benavides lives with his fiancé and their 7-year-old terrier mix Tye. He enjoys playing tennis and exploring new restaurants. Benavides also loves tacos and a good story.